Juliana van Gulik-Drugdova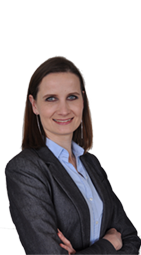 Hello, my name is Juliana Drugdova and I come from Slovakia. I moved to the Netherlands because of my partner and I have been living in Eindhoven since 2014.
After I finished my university studies I started to work at the Ministry of European and Foreign Affairs of the Slovak Republic and during this period I was posted to Japan for four years. As the head of administration and consul I was responsible for smooth relocation of my colleagues, but also for helping and counselling Slovak nationals moving to Japan and foreign nationals who intended to relocate to Slovakia. After coming to the Netherlands I was volunteering and working at the Holland Expat Centre South in Eindhoven which provides support to the expats relocating to this area.
This experience made me aware of the practical and personal challenges that an expat faces while moving to foreign countries. My professional experience, on the other hand, enabled me to fully understand all formalities of immigration and relocation process and to work out a way how to deal with all possible obstacles. In my free time I am playing an active part in the local expat community by providing support to expats in their settling-in.
I would love to use my experience and communication and problem-solving skills to make your relocation and settling-in in Eindhoven a happy memory from "day 1". I am looking forward to seeing you here!